You have landed your dream job as a football coach and are probably feeling excited and nervous as well as excited. How can you ensure you do your very best?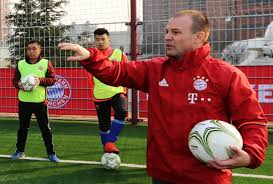 As their coach, the players will expect you to know your stuff. You will need to earn their respect, and they yours. Coaching encompasses a lot more than just showing them football drills and attending training sessions. As the coach you need to ensure they stay motivated and focused and working together as a team. This can be done through training sessions, team activities and also by taking them to hear a Motivational Speaker such as https://www.adventureman.org/ who can inspire them to find a love for their sport once again.
Here is everything you need to know to be prepared.
Set the tone

From the first moment you step onto the pitch, your every move will be surveyed. Start by laying out your expectations clearly from day one; for example, the players must:
– Show up to practice sessions on time, every time.
– Be prepared and ready to play, in full kit.
– Remain positive at all times.
– Give it their all, even during practice.
– Respect you and each other.
Set out these rules early and everybody will know exactly where they stand. This is a recipe for long-term success.
Planning

Every practice should have a plan. This does not need to be set in stone; instead, it should be a general outline with room for variability when required. A typical practice session might include:
– A captain-led warm up.
– Dynamic (calisthenic) stretches.
– Some conditioning.
– Stick and hit skills.
– Football drills based on the skills needed within the team
– Warm down.
It is good to adopt a certain degree of structure for each session whilst adding in new drills and activities to ensure players do not get bored.
Be realistic
Regardless of how competitive you were as a player, it is important that your expectations of your new team are realistic. If the team has a history of always losing, you cannot suddenly expect to start winning every game; instead, work to bring out the best in every player, teach them how to use these skills to work together as a team, and eventually the wins will come.
Coaching a variety of skill levels.

Many teams incorporate a wide range of different skill levels – counteract this by instigating some drills for skill building. These will help the experienced players to build upon their skills and enable newer, less-experienced players to get a better grasp of the basics. Once the basics have been mastered, they will form the foundations for learning the more complex concepts and strategies.